I am prepping a cheap high mile '91 SE-R for this year's Poughkeepsie Sports Car Club [PSCC] Rallycross series. This is just for fun and I'm not going to spend a fortune on it. The first order of business of course is to get the car up to speed mechanically first. I paid $200 for it as seen here.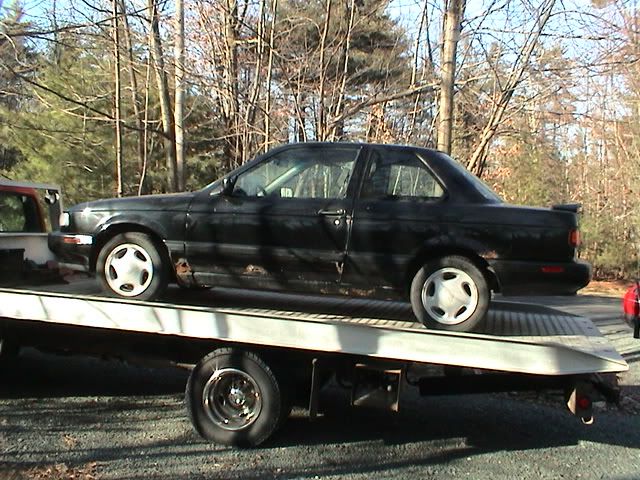 I've been planning this build for some time and have been saving parts for the day I got a cheap SE-R for this.
Clutch
The car needed a clutch so I ordered an Exedy disc for like $40 shipped on ebay. The cover and bearing were fine and I cleaned and reused them.
Transmission
This might start to sound like the Grassroots Motorsport $2010 Challenge event build story, but the car needed a clutch so I pulled the good five speed out and sold it for more than I paid for the car. Why sell the trans? Because this car will be a stripped out rallycross/ice race car and will be trailered to events. So because I'll never need 5th gear again, I installed an otherwise perfectly good $50 4 speed "pop out" trans I've been saving for years. I love it when a plan comes together.
Oil leaks
Next it needed a persistent oil leak fixed. It wasn't the front crank seal as I first thought. Nope, this one had a loose bolt on the timing cover and as a result, the oil pressure passage o-ring failed between the cover and the block. Weird, but I replaced it without issue. Also put a valve cover gasket set on it as well.
Brakes
: It needed front brakes and calipers. Most people here go for the ultra heavy AD22VE NX2000 setup. Not me. Those things weigh a ton! I decided to once again do my budget lightweight front brake "downgrade". I've done this before with other B13's in the past with great success. For events like ice racing where you need very little braking, and in rallycross where the duration of the runs are too short to build any heat, I ditch the SE-R setup and go not one step smaller [to standard B13 brakes], but
two
steps smaller to B12 sedan front brakes! The B12's were much lighter cars and used lighter solid rotors and very small calipers. They are a direct swap onto a B13. Plus you can now run 13" wheels if you so desire.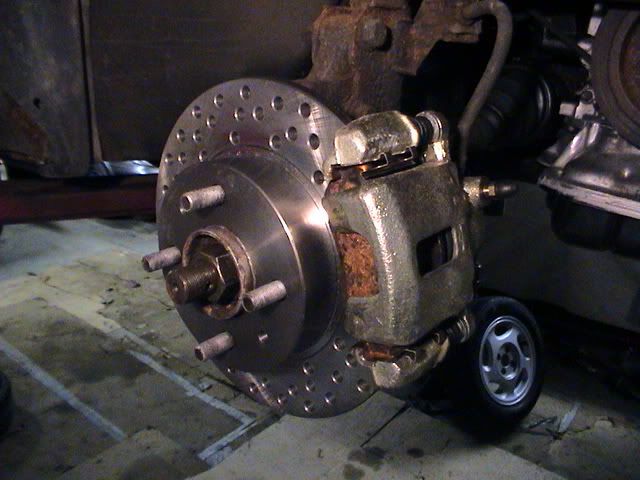 And yes, I drilled 96 holes in each of those $19 AutoZone B12 solid rotors. Tip: the B12 wagon rotors
are
vented, so specify the sedan rotors for the lighter, solid discs. Heck by the time I gut the car to racing weight, it will be less than what the B12's weighed anyway. The reman calpiers were also only $19 each [with the torque brackets no less] on a closeout sale through RockAuto.com.
Interior
Currently I am stripping out the interior and scraping out all of the sound deadener. I've got an aluminum Kirky lightweight racing seat from my old B11 race car [that I retired over the summer] that will go in. And that big heavy SE-R steering wheel will go in favor of a smaller lightweight Momo Monte Carlo wheel that my friend Phil gave me. The $67 Momo B13 adapter to mount it, just came in from an ebay auction.
Suspension
Nothing fancy here, just a new pair of front AGX's on stock springs. Front AGX's for a B13 are very reasonably priced at just $79 each from Octaneautosupply on ebay. Get 'em while you can!
Motor Mounts
Naturally, the motor mounts were shot in this car too. What else is new right? Normally I would never put the red urethane Energy mounts in any of my street cars [they vibrate too much], but for this car, they are the perfect "cheap" upgrade for less than $60.
Tires
I bought a set of 185/65R14 Firestone Winterforce tires, a.k.a. the "poor mans rally tires" from the Tire Rack for just $49 each [discounted from $52 through our account at work]. I've also got a used set of Silverstone 505's from the old B11 rallycross car.
I'll update this thread as I go along. A skid plate is mandatory for these cars too. The SR's oil pans are way too vulnerable.
Mike