HI everyone.
After the very succesful downpipe GB, I think some of us are ready to shop for brakes !
I've contacted Brian at FastBrakes and he will provide the following options for GTI-R owners.
I'm no brake guru, so please search around and look at the Wilwood catalogue for specs and details.
http://catalogs.wilwood.com/2008_Tech_Catalog.pdf
and
:google:
AS OF FEB 15, GB IS CLOSED !!!
-updated Jan 21st 2009-
Procedure:
----------
If you want a kit, send me the following information via PM:
- Full name
- Date when you will be ready to send payment to FastBrakes
- Payment method (see below)
- Desired kit (A-B-C-D or E)
- pad options (I will update the list below with race options shortly)
- other options or additional parts
- Billing address
- Shipping address
- Combined shipping (yes/no)
I will gather all the orders and will group them in sub groups of 10.
See below for pads and other options.
So, everyone to their pens, papers, calculators, keyboards and ... wrenches !
Cheers,
--McDave
----------
PAD OPTIONS: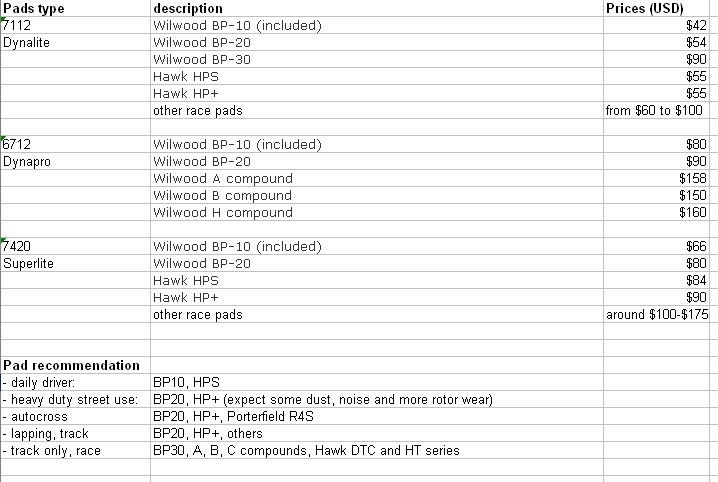 OTHER OPTIONS:
(Dynalite calipers)
KIT A:
- 11" kit
- 4 piston Dynalite calipers (part #120-6805)
- aluminum mounting brackets + hardware
- street pads (usually Wilwood BP10 compound)
- front braided steel brake lines
- 1 piece slotted/dimpled rotors
$600
http://fastbrakes.com/shop/product_info.php?cPath=30_270&products_id=1124
KIT B: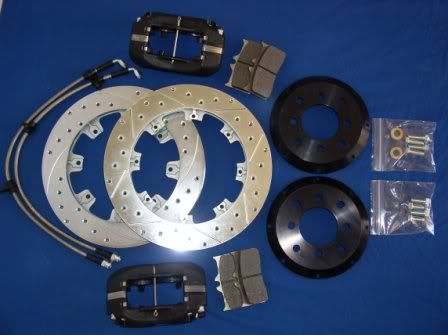 - 11.75" kit
- 4 piston Dynalite calipers (part #120-6806)
- aluminum mounting brackets + hardware
- street pads (usually Wilwood BP10 compound)
- front braided steel brake lines
- 2 piece slotted/dimpled rotors
$800
Different pads are available, (extra $10 to $50)
http://fastbrakes.com/shop/product_info.php?cPath=30_270&products_id=1125
(DynaPro calipers)
KIT C:
- 11.75" kit
- 6 piston DynaPro calipers (part #120-10128/129)
- Dynalite aluminum mounting brackets + hardware
- street pads (usually Wilwood BP10 compound)
- front braided steel brake lines
- 2 piece slotted/dimpled rotors
$1140
Different pads are available, (extra $90 to $160)
(Superlite calipers)
KIT D:
- 11.75" kit
- 4 piston Superlite calipers (part #120-7432)
- Dynalite aluminum mounting brackets + hardware
- street pads (usually Wilwood BP10 compound)
- front braided steel brake lines
- 2 piece slotted/dimpled rotors
$900
http://fastbrakes.com/shop/product_info.php?cPath=30_270&products_id=1126

KIT E:
- 11.75" kit
- 6 piston Superlite calipers (part #120-7228-FS/7229-FS)
- Dynalite aluminum mounting brackets + hardware
- street pads (usually Wilwood BP10 compound)
- front braided steel brake lines
- 2 piece slotted/dimpled rotors
$1200
Different pads are available, (extra $70 to $160)
http://fastbrakes.com/shop/product_info.php?cPath=30_270&products_id=1127
--McDave