Discussion Starter
•
#1
•
After searching i couldn't really find any good detailed 5 lug conversions before doing mine. So i decided to make one! This was done on my S14.
I bought brand new hubs off ebay for 310 shipped. I also bought 5 lug rotors that were drilled and slotted for $115 shipped for all four.
Parts Needed:
5 Lug hubs off SE
5 Lug Rotors off SE
5 Lug Wheels to finish off the setup
Tools Needed:
Impact Gun (If Available)
Socket Set
Ratchets
Flat Head Screw Driver
Hammer
Axle Grease
Axle Sockets 32mm and 36mm
Wrench Set
WD-40
Case of Beer
Ok this is just a guide, I'm not responsible if you mess up your car! This is a medium difficulty project, if you can do an engine swap, you can do this!
Hubs i bought off Ebay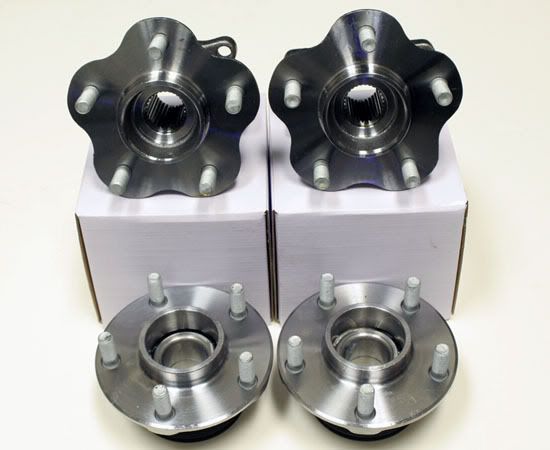 FRONTS:
STEP 1:
Remove dust cap, i used a flat head screw driver and a hammer, and hit it like a paint can going around it little by little. (Before i started I went ahead and painted the caliper with high heat paint ~ Half ass job but turned out ok
)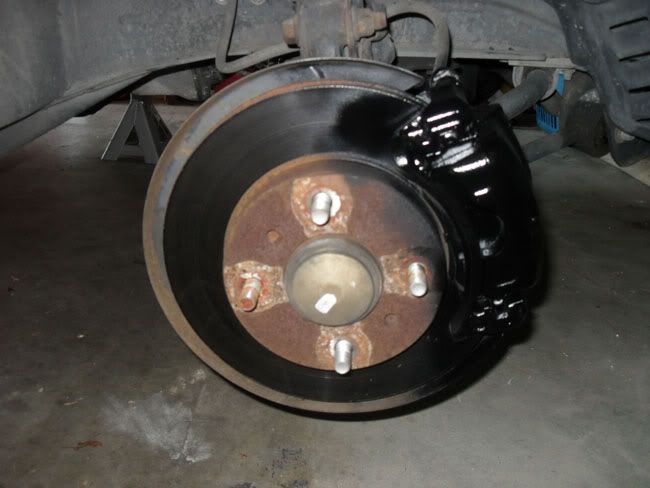 -------------------
STEP 2:
Remove axle nut 32MM if i remember right. I just loosened mine until i pulled the caliper off.
-------------------
STEP 3: Remove Caliper and Rotor.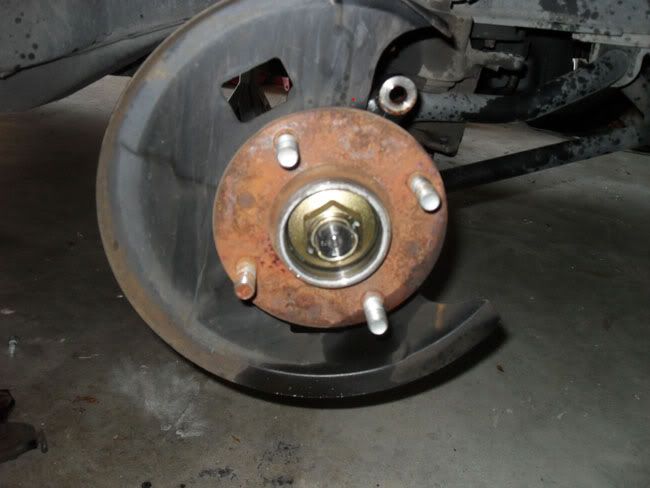 -------------------
STEP 4: Now the hub should just slide right off.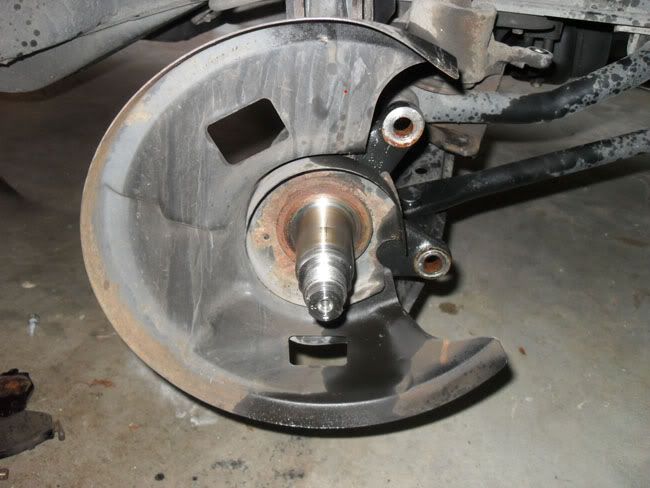 -------------------
STEP 5:
Clean shaft and lube it with axle bearing grease.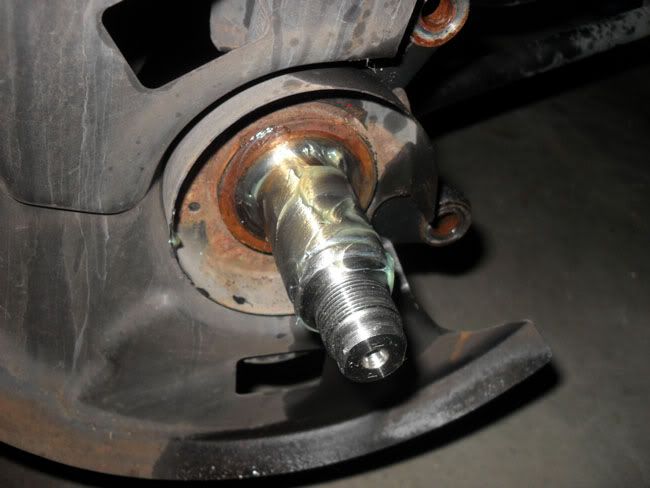 -------------------
STEP 6:
Now you can slide on the new hub, re-torque the axle nut, and install the new rotor and the brake caliper.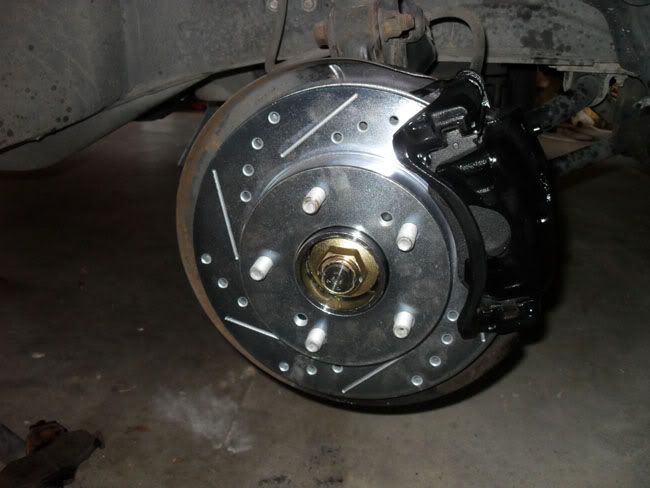 -------------------
Thats it for the fronts, now the rears are a little more complicated...
REARS:
STEP 1:
Remove Cotter Pin & Axle Nut 36MM. (If you dont have an Impact you can remove center cap of wheel, put it back on the ground and use a break over bar)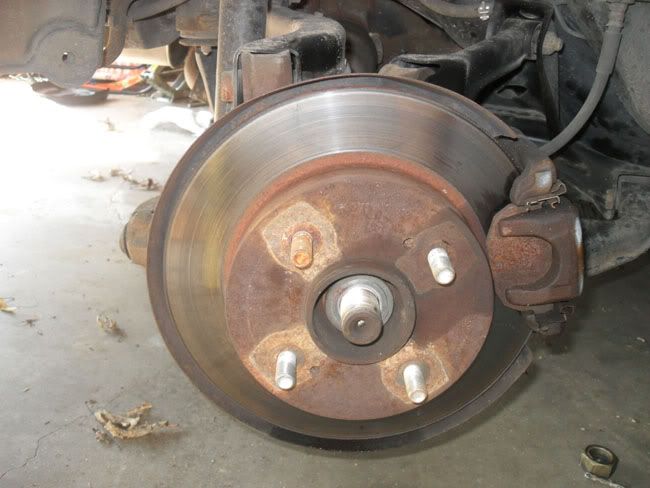 -------------------
STEP 2:
Remove brake caliper and rotor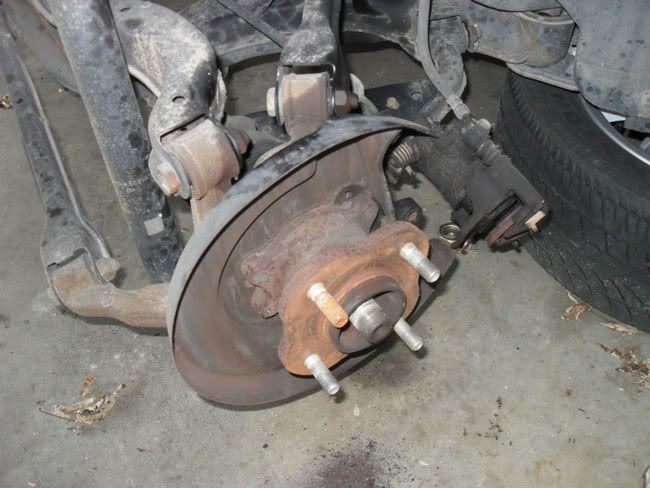 -------------------
STEP 3:
Remove the 4 bolts on the back side of the hub. You can turn the axle to were the indentions are to get access to each bolt.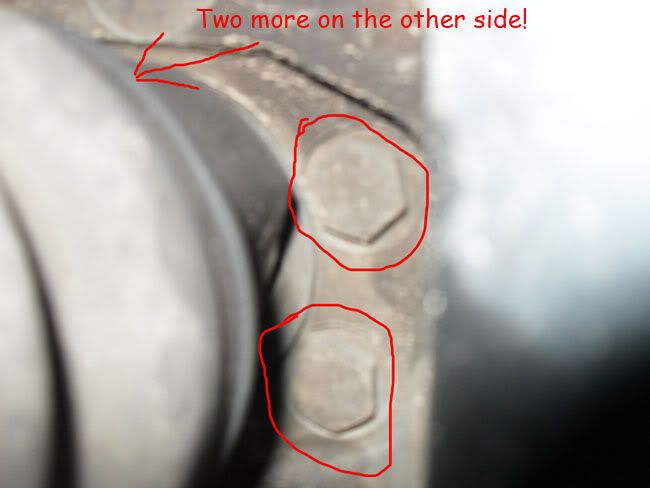 -------------------
STEP 4:
Remove strut bolt, and the rest of the rear suspension shown in the pic.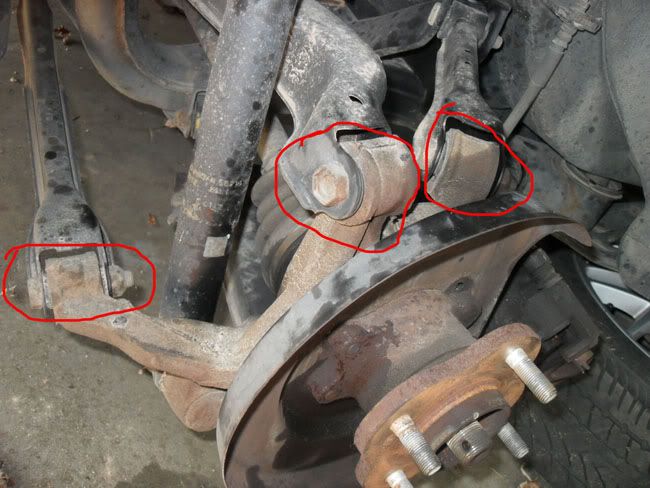 -------------------
STEP 5:
Now you can pull the hub forward and remove the axle from housing. You can use a mallet to hit the axle to loosen it.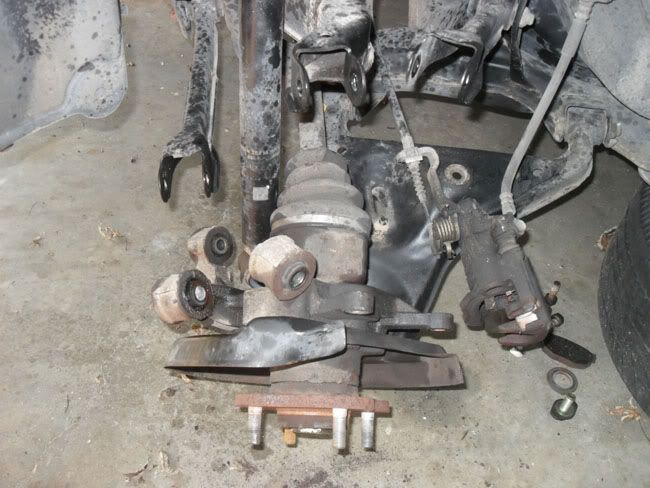 -------------------
STEP 6:
With the axle out of the way, you have good access to the hub. I used a sledge hammer (BFH) holding the spindle in my hand and pounded the hub out of the spindle. (This WILL ruin it, i didnt care i was throwing it all away)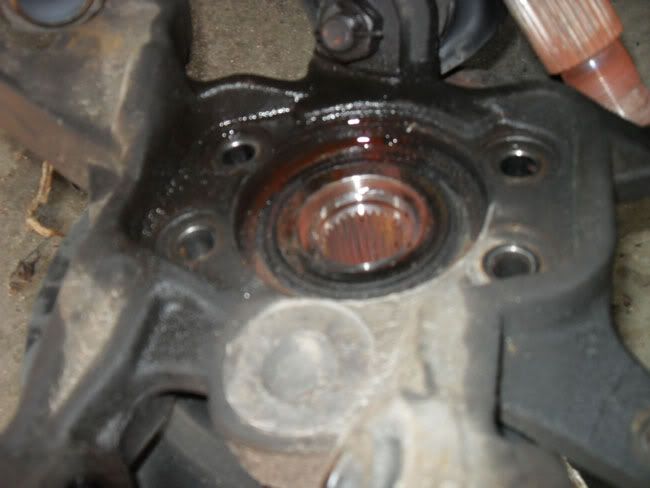 -------------------
STEP 7:
I used an emery cloth to sand out the spindle hole, mine was rusty.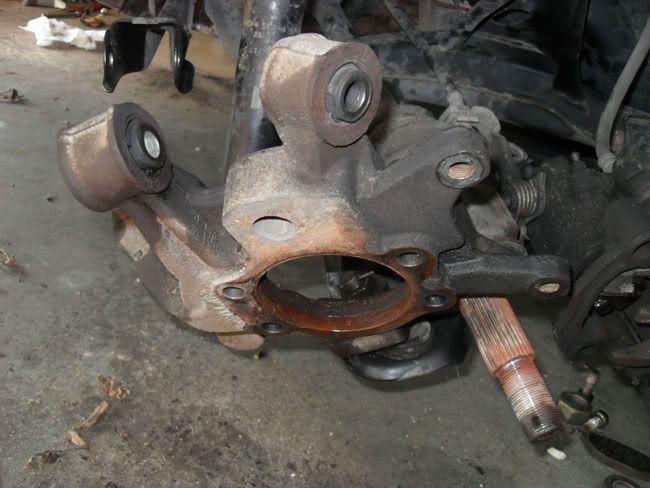 -------------------
STEP 8:
Now put in the new hub, torque down the bolts and reassemble everything in reverse order of which you took it off. You should end up looking like this!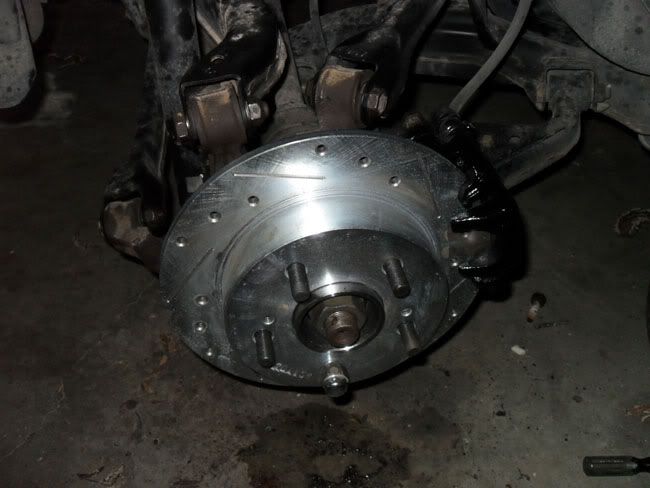 Thats it! Now you have a better selection in wheels. I bought some 350z touring wheels for a great price so thats what im rolling on for now. For $425 i had everything i needed to do the swap and brand spankin new!
ENJOY!