Discussion Starter
·
#1
·
OE coolant reservoirs on S13's are notorious for embrittling and cracking, as most of you are aware. I scored a new one when my car was @ P1 because Tony accidentally put his finger through it. I rocked it for about a year (really 1 HPDE and 3 Solo events), and figured out recently that I needed the space it occupied for my oil filter canister. So I traded it to a friend for a BMC heatshield and found an alternative at Summit Racing:
Moroso 1-Quart Coolant "Overflow" Tank, P/N MOR-63657
- $28.95
Moroso "Overflow" Tank Mounting Bracket, P/N MOR-63401
- $6.95
While not as blingy as most other alternatives, it should do the job nicely, and cheaply.
Here it is, out of the packaging:
It comes with a draincock (uh huh huh huh) and a 90° hose barb. The configuration shown on Summit's site is the draincock on bottom, but I decided to put mine on top as a means of adding coolant, and using the hose barb on bottom to route the line in from the radiator neck. I did this to match the OE configuration where the overflow goes into the bottom of the reservoir: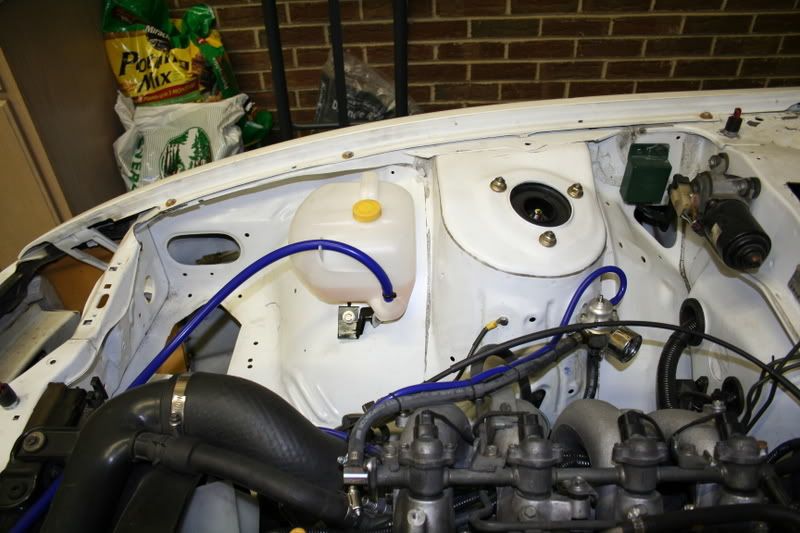 I tried this as a potential spot:
But wasn't comfortable with the way the silicone hose bent to make the turn: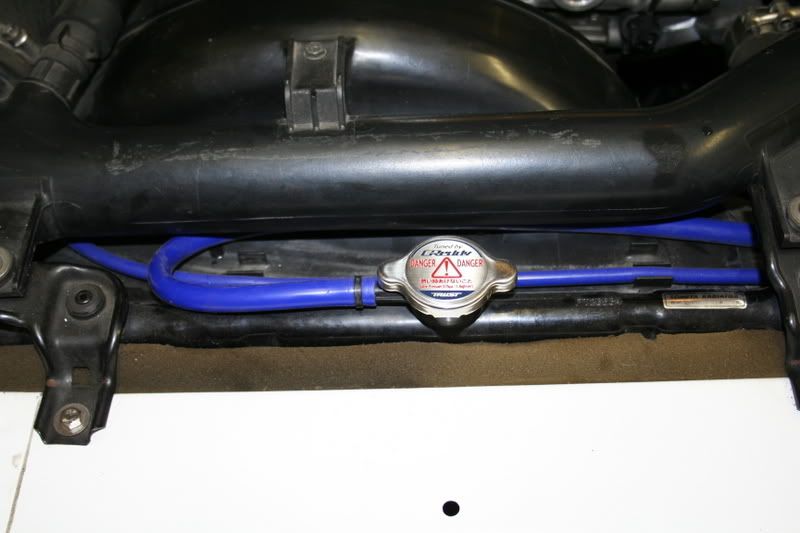 So I test-fitted and found a new spot:
Mounted: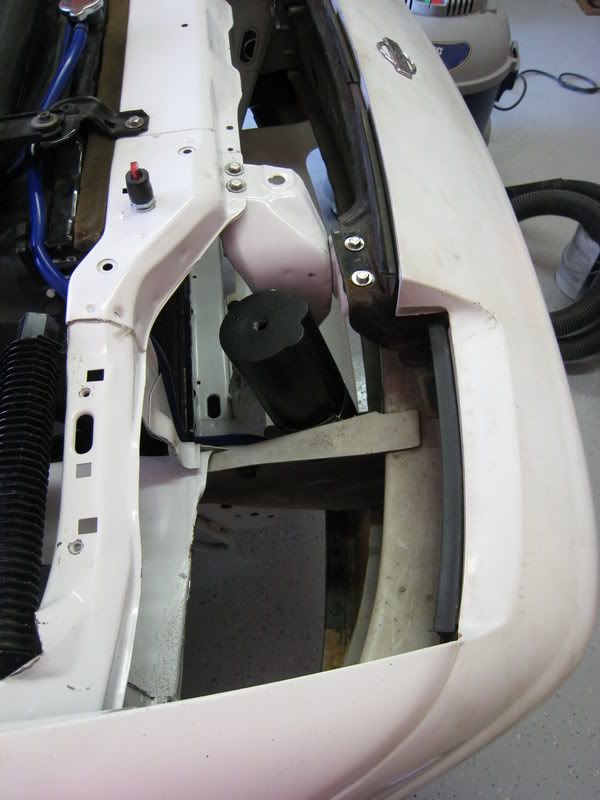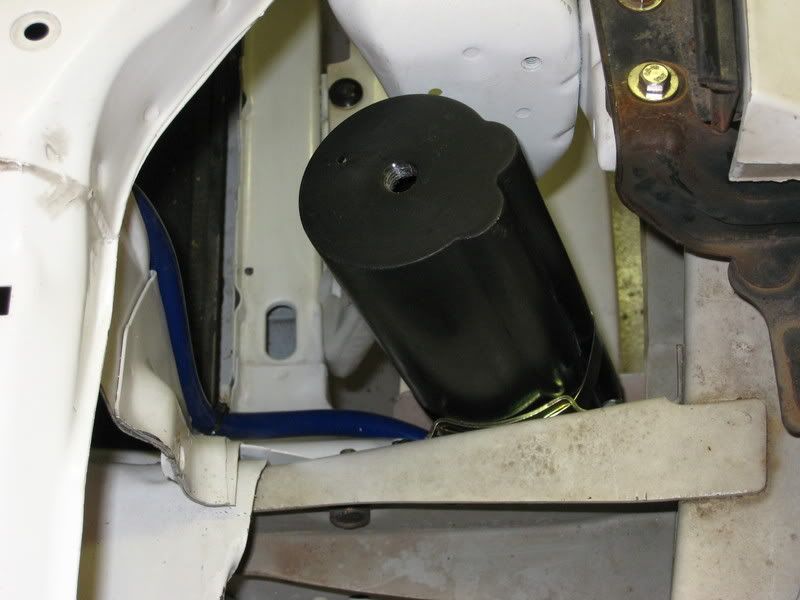 Draining the distilled water & Water Wetter into the new tank: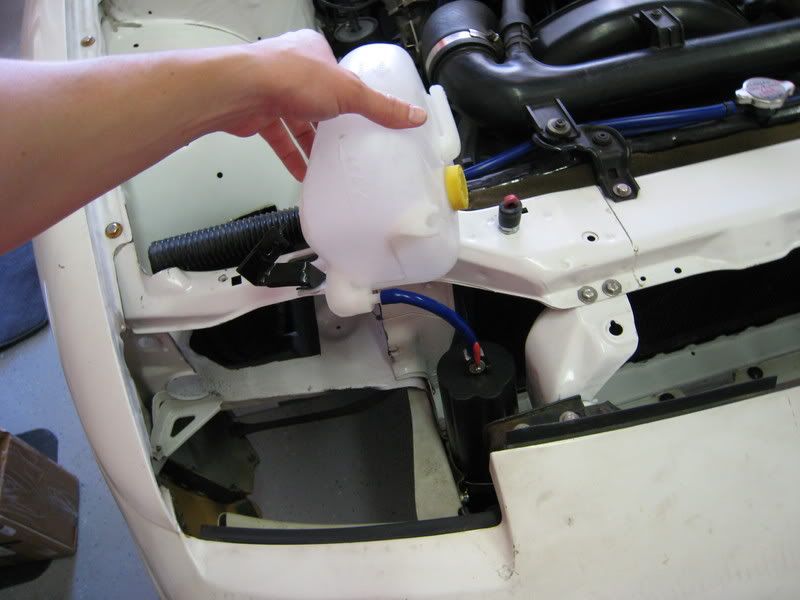 Detail of the hose into the barb on the bottom:
Added the draincock (this word gets me every time!) to the top: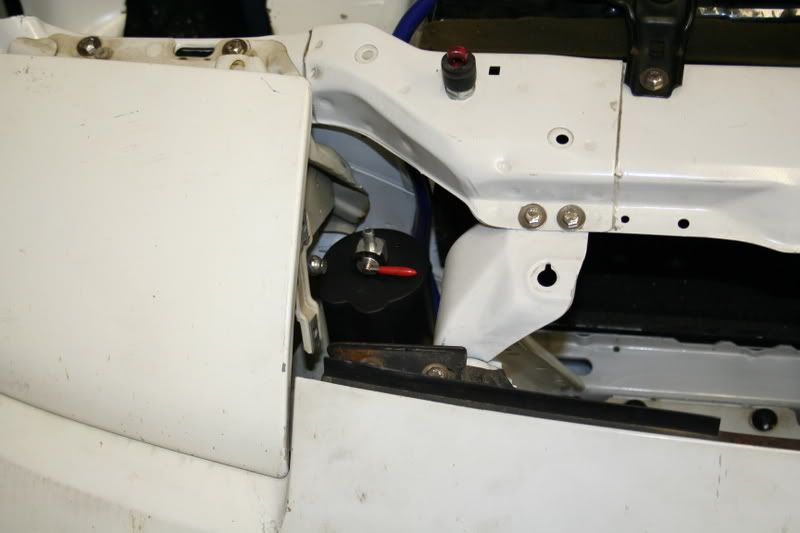 The tank has a vent hole in the top that should be sufficient to bleed pressure in the event that coolant does overflow into the tank, so I don't need to keep the draincock open.
I like this mounting location because it's discreet, but realize that this won't work if you have pop-up motors. So this spot (or close to it) would only be an option in cases like mine, or if you swapped another front end on the car. Might work for S14's too, but I haven't messed with one to know for sure.
No issues from hard track usage last month, which means it should stand the test of normal driving. Of course, the real test is if you actually have an overflow situation, so I guess I have nothing conclusive to add quite yet.
-Andy