Discussion Starter
·
#1
·
ok, to start things off, i am using monroe sensatrac sturts, with arospeed springs. the springs are supposed to drop the car 2", but as you can see from this pic when i had my 16s, it doesnt look like its 2" lower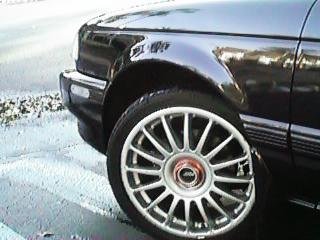 today i went to take some pics with my friend Rob's (SE-Rican) rims, they look great on the car, but the back wheels rub on the perch of the struts, and the front is still high.
now my questions are:
are monroe sensatrac struts just shitty for lowering a car?
are they the wrong struts to use?
do the springs suck?
can i use other struts with these springs and have the car sit better and still be able to use 17s?
can someone recommend some good struts that will make my car sit better?
well, if anyone can answer some of these questions, please tell me soon...thanks in advance
------------------
Serban Gavrilescu
91 Black Metallic SE-R
http://www.geocities.com/serban91r
[This message has been edited by Fast91SER (edited 07-08-2001).]